20 Apr

The Passing of A Giant In Malaysian Urology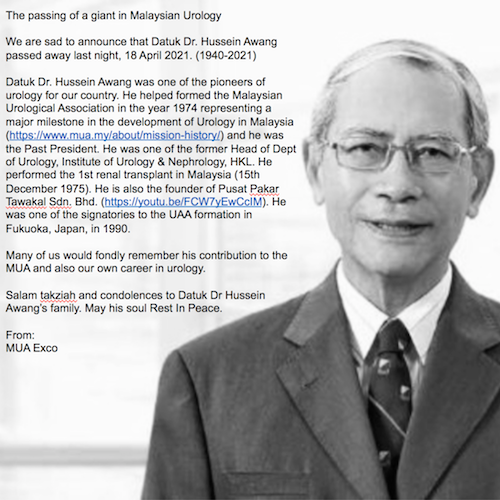 The passing of a giant in Malaysian Urology
We are sad to announce that Datuk Dr. Hussein Awang passed away last night, 18 April 2021. (1940-2021)
Datuk Dr. Hussein Awang was one of the pioneers of urology for our country. He helped formed the Malaysian Urological Association in the year 1974 representing a major milestone in the development of Urology in Malaysia (https://www.mua.my/about/mission-history/) and he was the Past President. He was one of the former Head of Dept of Urology, Institute of Urology & Nephrology, HKL. He performed the 1st renal transplant in Malaysia (15th December 1975). He is also the founder of Pusat Pakar Tawakal Sdn. Bhd. (https://youtu.be/FCW7yEwCcIM). He was one of the signatories to the UAA formation in Fukuoka, Japan, in 1990.
Many of us would fondly remember his contribution to the MUA and also our own career in urology.
Salam takziah and condolences to Datuk Dr Hussein Awang's family. May his soul Rest In Peace.
From:
MUA Exco